Welcome to the first edition of our DAO Spotlight series, where we feature the most interesting Decentralised Autonomous Organisations (DAOs) making waves on Snapshot. Today, we turn our focus to a game-changer in the world of sports: Krause House.
This ground-breaking DAO is making a slam dunk in the NBA landscape, aiming to revolutionise the way teams are managed by putting power in the hands of fans. Get ready to dive into the world of fan-governed basketball teams and explore how Krause House is redefining the dynamics of this beloved sport.
Picture this: it's the final game of the NBA championship, the clock is ticking, and as the winning shot soars through the air, the crowd erupts in cheers. But this time, the celebration is more than just the triumph of a team; it's the victory of an entire community of basketball enthusiasts who came together to own, govern, and manage their beloved team.
Welcome to the future of sports franchises, where fans become owners, and the Krause House DAO takes centre court.
Krause House: The future of NBA fandom
In just over a century, basketball has transformed from a simple playground pastime to a $10 billion-per-year global phenomenon. It's the fans who have fuelled this incredible growth, and now, Krause House is here to take fan engagement to a whole new level.
Krause House is a Decentralised Autonomous Organisation (DAO) governed by a community of basketball enthusiasts who aspire to own and manage an NBA team collectively. By leveraging the power of DAOs, Krause House aims to disrupt the traditional ownership model of NBA franchises and transform them into "fanchises", allowing fans to participate in decisions affecting operations, ticketing, merchandising, partnerships, and general management.
What sets Krause House apart is its vision of a more democratic and transparent approach to team management, engaging fans and basketball purists alike. The DAO's goal is to acquire an NBA team, and through decentralised governance, community members will actively participate in the team's decision-making processes, from roster adjustments to branding changes.
Krause House and the NBA dream
At the heart of Krause House lies a passionate community of basketball fans, united by their love for the game and a desire to shape its future. Through the power of DAOs, these ambitious individuals are working together to achieve what would be impossible for one person alone: owning an NBA team. As they collaborate to establish the consensus rules that will bring their fan-governed team to life, Krause House embodies the true spirit of DAOs, representing a slamming success.
Players don't win championships, DAOs do.
Krause House
Just in one year, Krause House has bought a BIG3 team in the Ball Hogs, built the world's first NFT basketball court at NFT.NYC, and designed novel financial structures to have a DAO sit on a cap table of professional sports teams.
Also, Krause House launched a series of NFTs that were met with overwhelming enthusiasm, quickly selling out and reaching their initial cap of 1000 ETH raised. This successful NFT sale marks a significant milestone for the community, signifying the official launch of the DAO and propelling them one step closer to their ultimate goal.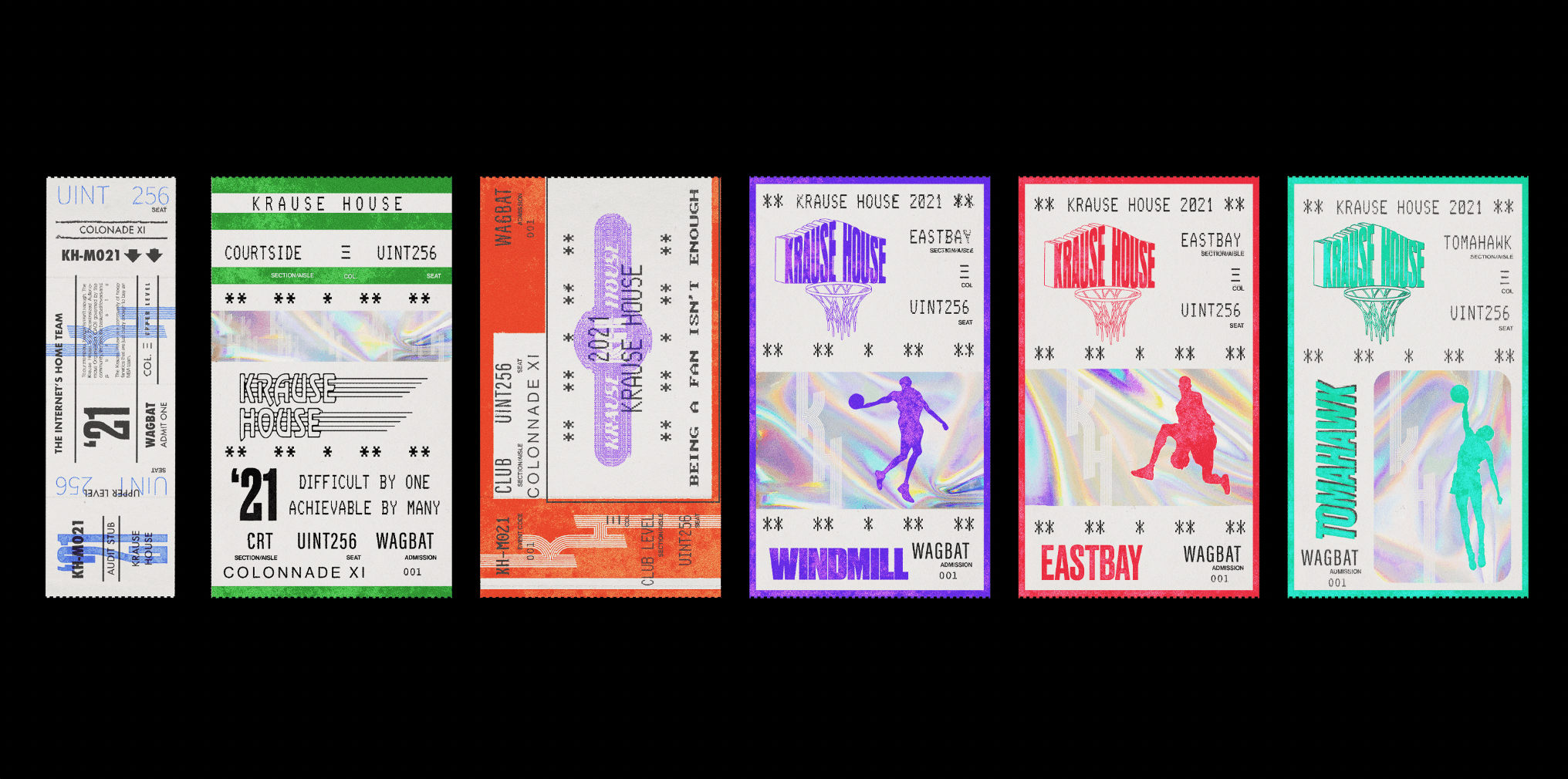 Thus, Krause House made headlines recently as it nearly became a minority owner of the NBA's Phoenix Suns. The collective's goal is to build the internet's first home team, fostering a global sense of belonging and pride among its fanbase while driving long-term value for the franchise.
Although Krause House faced strong competition from high-profile names such as Jeff Bezos, Larry Ellison, and Bob Iger, they used the opportunity to tell their story and educate the public on the concept of collective ownership. Despite not securing a deal, Krause House's unique approach of combining private equity structures with the power of community is seen as a disruptive force in the world of sports ownership. The organisation believes that any asset with cultural popularity, such as art, music, and sports, will eventually be influenced by this community-driven model, transforming the future of ownership and engagement.
A deep dive into Krause House's governance model
Krause House's governance model dives deep into the utilisation of Snapshot, enabling members to cast their votes without any cost, based on their $KRAUSE token holdings. This approach not only promotes an inclusive and democratic decision-making process, but also fosters transparency and builds trust within the community.
By harnessing the power of Snapshot, Krause House ensures that both financial and strategic choices are made openly and with the consensus of its members. This empowers the DAO to execute strategic plans while maintaining the integrity of its vision. The success of Krause House's governance model serves as an inspiration for other organisations seeking to adopt a more inclusive and transparent approach to decision-making.
A recent proposal on Snapshot requested $25,000 to retain Hogan Lovells as legal counsel for a prospective NBA ownership acquisition transaction. The funds would be used to pay the firm's retainer, which would be applied strictly to work related to acquiring an NBA ownership position. This would ensure that Krause House has the necessary legal expertise to quickly close a deal. In light of the facts and surrounding circumstances, the members of the DAO chose to endorse and progress with the decision.
This is a testament to how a DAO, through its decentralised governance system, can maintain a high level of agility and adaptability, seizing opportunities even amidst adversity and challenges. It's a demonstration of the strength of decentralised governance, being both resilient and quick to respond to unfolding situations.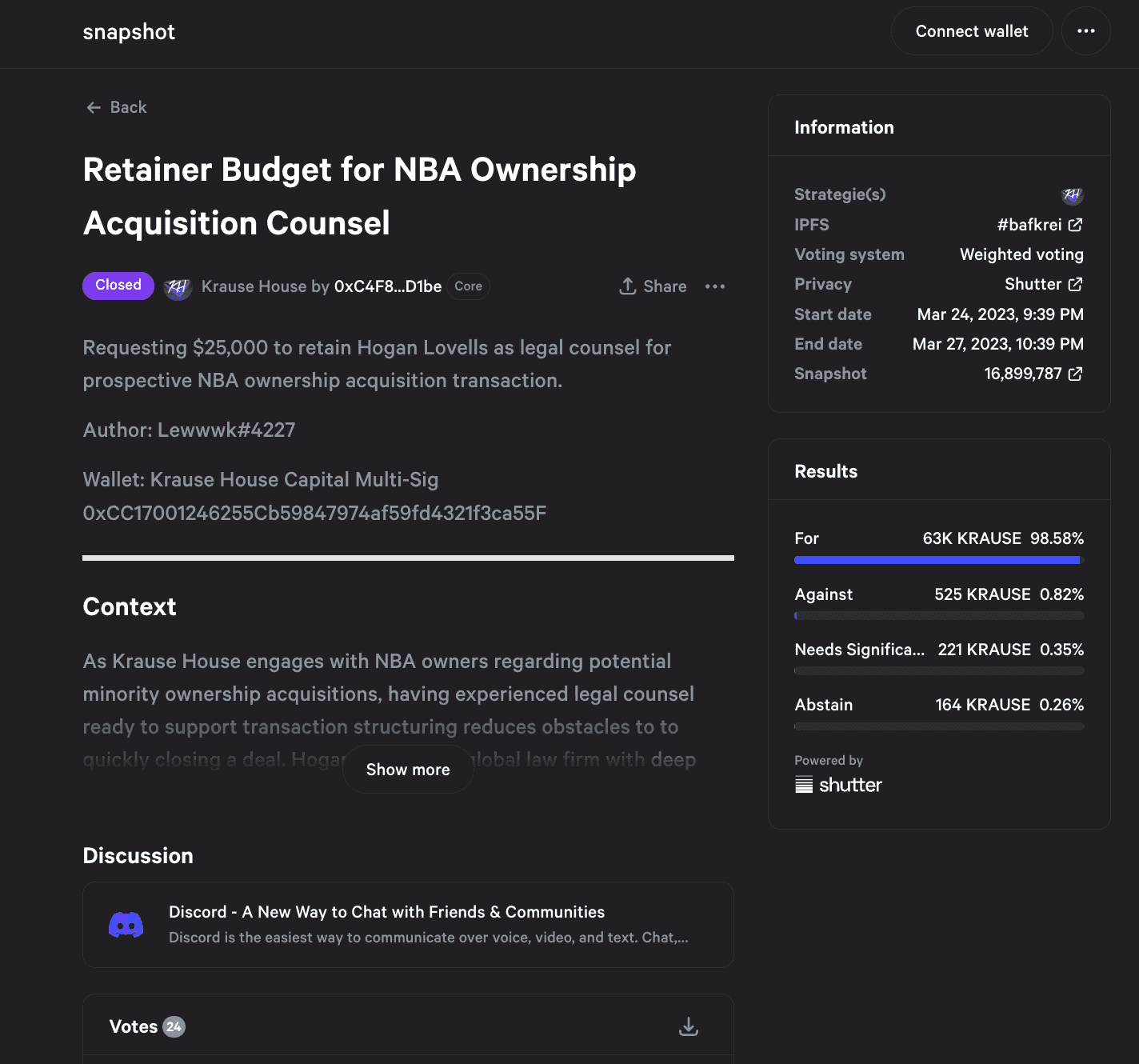 In less than two years, Krause House has grown from a single member's vision of winning an NBA championship as a DAO to a thriving community of over 4,500 people on Discord, with even more supporters cheering them on from the sidelines. Inspired by the late Kobe Bryant's wisdom, the Krause House community is dedicated to continuous improvement, striving to be better tomorrow than they were today.
The Krause House DAO is revolutionising the world of basketball fandom, offering an unprecedented opportunity for fans to take ownership of their favourite sport. As the first fan-governed team in the NBA becomes a reality, this groundbreaking initiative promises to redefine what it means to be a supporter, and change the game forever. So, lace up your sneakers and join the revolution – the court awaits.
Score Big: Mint your 'Slam Dunking into the Future' NFT
Show your support for the first edition of Snapshot's "DAO Spotlight" article series.
If the story of Krause House has inspired you, explore more DAOs on our Blog. Snapshot provides DAOs with an innovative platform to decentralise governance simplifying the voting process for proposals. Discover more by joining an existing space or by creating your own.